Šantovka gallery is a multi-function business centre, one of 10 largest ones in the Czech Republic. It stands at the very heart of Olomouc, close to the town´s historical centre.  It is interesting that Šantovka is located on an isle formed by Mlýnský potok and a cut-off meander of the former millrace.SMC Development a.s. was the project investor. The project was designed by Benoy Ltd., a London studio, in cooperation with Atelier 8000, Czech architects in the position of executive architect and a general designer. Metrostav a.s. is a general contractor of the project.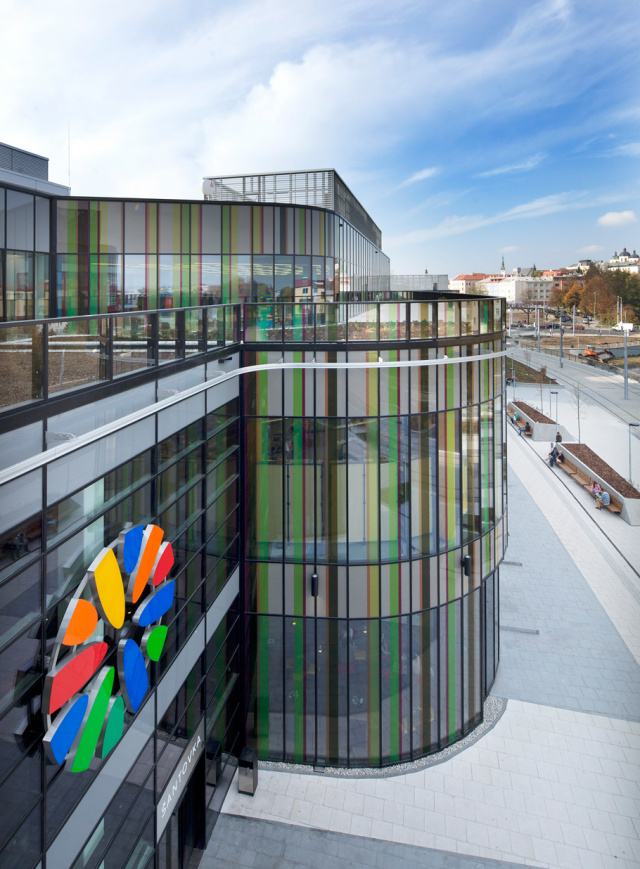 Sipral´s main part in this project was formed by external and internal stick-system facades of approx. 7 500 m2 segmented in four main parts, so called "blobs" that are connected through entrance facades into the centre. Layout shape of facades resembles an irregular ellipsis. With regards to the complex shape all the facades were modelled in 3D software. Coloured glazing in a form of differently coloured vertical strips of various widths became quite a special feature of the external facades.The final design was preceded by several months of searching, testing and sampling of an ideal design leading to the state when the architect´s all requirements are met. Coloured design is formed with a special printed foil that was applied through a wet process on the inner side of the external pane of our double-glazed facade. The process was done under very specific and strictly controlled conditions. With non-transparent parts the foil is placed in between panes of laminated glass. One of the panes is made of enamelled glass so that we could meet the requirement of facade non-transparency where required.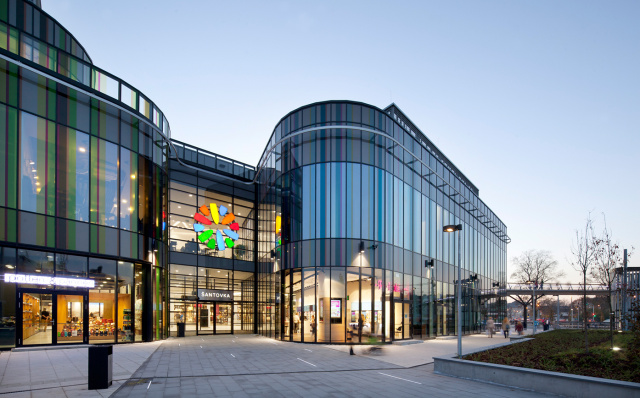 Facade delivery also consisted of various panes. For the external facades Sipral delivered 28 pieces of two-leaved doors, 2 pieces of one-leaf doors, 2 pieces of two-leaf sliding walls and 12 pieces of automatic sliding doors. For the interior facades there were 29 pieces of two-leaved doors delivered that serve as an entrance to retail units. Both leaves are equipped with automatic drives that serve for control of the doors and in case fire alarm they open. We also delivered several window panes.
Sipral´s delivery also included external and internal access systems. In the exterior there is an aluminium rail anchored equipped with trolleys for access of mountaineers. In the interior of the building there is also a rail anchored in steel structure of skylights. There are 5 special platforms moving on the rails. They serve for maintenance and washing of skylight structures.