In a quiet residential area in Prague set below Strahov Hill, a unique apartment building has been built. The entire edifice, which consists of four sections, has a polygonal ground plan. All the apartments whose face is formed by an 8m-long glass wall offer a unique view of the Prague skyline.
The most luxurious duplex apartments (the so-called "penthouses") are located on the additional storey of the building. Their façade is glazed over the entire height. Each of these apartments is connected with a terrace, an atrium, a winter garden and – on the uppermost floor – a swimming pool.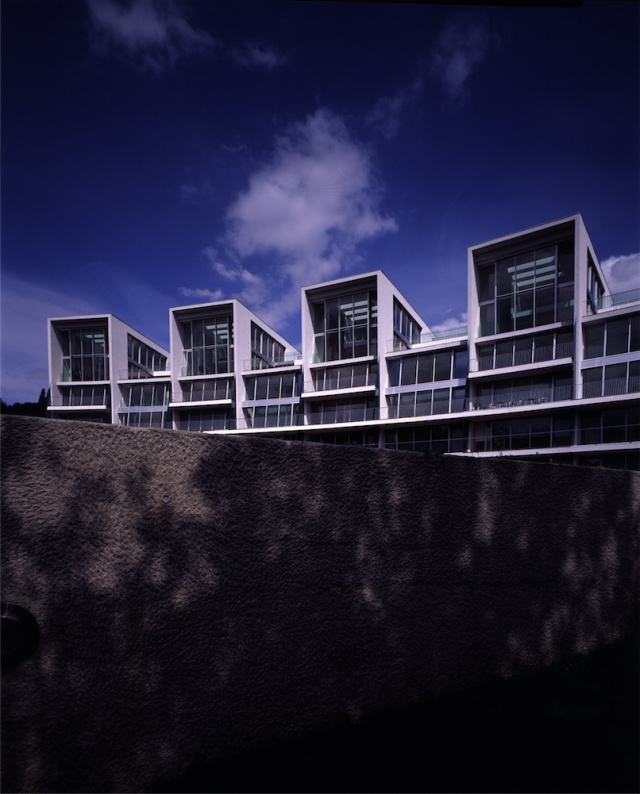 Sipral supplied the external cladding which was a difficult task because the façade is extremely articulated. The complexity of this task was increased by the diversity of the applied materials and the strict quality requirements for the joints between them. It was necessary to respect not only the aesthetic requirements but also the technical issues (e.g., heat insulation, the moisture barrier, the fixing of the anchors and the like).
In addition to the façade cladding, Sipral also supplied wooden cladding, the heat-insulating cladding of the north wall which consists of alucobond panels, and the sliding glass door of the porter's room. The supply included the installation of large non-standard doors in all of the apartments. In the entire building, sliding doors made of the Schüco RS 120 system of various designs can be seen. The same manufacturer supplied the FW 50 system for manufacturing the non-standard fixed glazed facades.